With so many genealogy books on the market today, I wanted to cut through the clutter and give you a shortlist of what I consider to be the best genealogy books. The books listed below are never more than an arm's length away and have helped me work through countless brick walls in my research. 
Pro tip:
a great way to get your feet wet in this hobby is with a free trial at one of the big genealogy sites. MyHeritage has a
free 14-day trial
which gets you instant access to 16.9 billion records and over 3.5 billion family trees.
Click here
to learn more about this offer.
The 9 best books for genealogy
Evidence Explained is the go-to reference book for both professional and beginner genealogists. In fact, many genealogy education and professional institutions have this book on their required reading list.
While the bulk of this book is how to cite specific genealogical sources, the first few chapters talk about the fundamentals of citations and evidence analysis.
This is the one book I keep on my desk at all times when doing research. Whenever I'm in doubt about how to cite a source, I can quickly flip to the page of the book that tells me how and gives plenty of examples.
The inside front cover of this book also has a terrific diagram that illustrates how sources, information, and evidence interact with each other in your analysis and proof statements.
I like to think of this book as the expanded first chapter of Evidence Explained. Thomas Jones goes into great detail about the research process from start to finish and is quite possibly the best genealogy book for beginners.
He talks about how to set goals and focus on specific research questions – and how to properly define them. 
He also talks about the different classification of sources, information, and evidence, the importance of each, and how they work together.
If you could only read one book about the actual process of genealogical research, how to analyze information and make conclusions, this would be the book for you.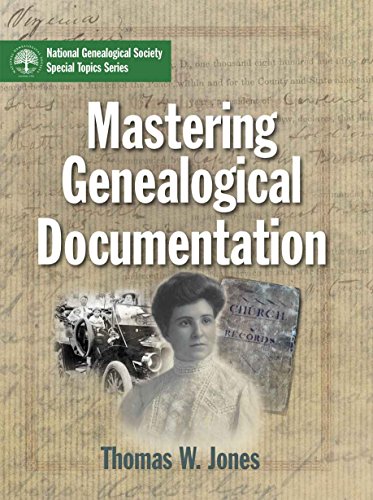 Another terrific book by Thomas Jones, Mastering Genealogical Documentation focuses on why and how to document sources and information. 
This book is sometimes confused with Evidence Explained, however, they are very different books. Evidence Explained is more of a reference book and provides you with models to follow for just about every type of source whereas Mastering Genealogical Documentation focuses on the logic of citations and documentation when no model exists.
If you're serious about pursuing a career and/or higher education in the field of genealogy, then this book should be at the top of your reading list. 
Published by the Board for the Certification of Genealogists (BCG), Genealogy Standards outlines the industry-accepted standards for research, documentation, writing, education, and ethics.
As the industry evolves, the BCG is quick to publish new and update editions of this book. The most recent edition includes standards for the use of DNA evidence in genealogical analysis.
When you're ready to take your genealogy research to the next level and deep dive into the world of DNA, this is the best place to start.
I've probably attended no less than 10 lectures from Blaine Bettinger at various conferences over the years. And in every session, I walk away with at least one new nugget.
This book gives a great introduction to the different types of DNA, and how they can be used together (or separately) in your research.
Blaine talks about the basics of DNA testing, common misconceptions, ethics of testing, ethnicity estimates (and how they work), third party tools, and more. 
This is a multiple-author book that is my favorite resource for advanced genetic genealogy.
A word of warning though. Because this is an advanced book, I would first read and understand the concepts of The Family Tree Guide to DNA Testing and Genetic Genealogy before moving onto this book.
Advanced Genetic Genealogy has 11 chapters, each written by a different expert in the field. Some of the topics include segment triangulation, visual phasing, X and Y research techniques, unknown parentage research, endogamy, raw DNA data, and how to write about your DNA findings.
Some of my favorite authors have written chapters in this book including Blaine Bettinger and Thomas Jones 
If you're thinking of a professional career in genealogy, or if you just want to up your game, then this book is a fabulous resource.
This is another multi-author book that was masterfully assembled by Elizabeth Shown Mills (author of Evidence Explained).
This book covers topics like professional preparation and credentials, career management, professional research skills, and proper writing techniques for things like research reports, proof arguments, case studies, and family histories.
Personally, I skipped the sections relating to things like career management and certifications since I'm not a professional genealogist. The sections on research skills and writing alone make this book a great purchase even if you're just a hobbyist genealogist. 
If you're researching your ancestors in the United States, this book is a must-have. This is a meaty, 800-page book that covers almost every type of source imaginable. This book is also more of a reference book that you'll go back to time and again. 
One of the most important lessons in genealogy is that you need to know what sources exist for your research question. Before you do any research, you should think about and write down all the different sources that could provide evidence for your question.
This book talks about nearly every type of source for American research and goes into detail about things like why each one was created, where you can find them, and what type of information you can expect to find. 
If you're like me, chances are you've hit one or two brick walls at some point in your research. If you have, then this book is for you.
So many times when I'm doing research I get so laser-focused on one issue that I lose focus on the bigger picture which skews my thought process. In some cases, the answer can be right in front of me but I can't see it.
This book provides some great ideas and exercises to help you re-evaluate your research methods and stay focused on the bigger picture.
If you're fed up by things like burned down courthouses, missing census records, or finding vital records before civil registration, then this book is for you.
Locality books!
The last recommendation I have for you could prove to be the most valuable. It may seem silly, but it's extremely important.
If you want to really take your genealogy to the next level and smash down those brick walls, you need to do locality research. Whether it's at the country, state, county, town level, it's so important to know what records exist, where to find them, and what information they contain.
It can sometimes be hard to know what books exist and where to find them. Reach out to the local historical societies and genealogical societies in the area of interest.